With the growth in our business, it has become increasingly difficult to maintaining my focus. At times it seems like I'm being pulled in 6 different directions all at once. Add a little attend deficit disorder (look it's a squirrel) and it can become down right maddening. It had gotten so bad, a few weeks ago I forgot to grab my shaving kit on the way out the door for a race. While certainly not life threatening, it illustrated my loss of focus.
To help us center our attention on the streaming business, we've stepped back from the web design side of our business and are no longer taking on new accounts. Last week I had to shutdown a pet project of mine, the 18 month old Drag Race Report website, which was similar to the Drudge Report. While it did not see a tremendous amount of traffic, it was something I enjoyed doing.
Throughout the Bible, God shows us He is a provider. He tells us not to worry because He knows all our needs. Still, most of us find it hard to trust God when it comes to our job performance, bank account, or relationship status. Why do we struggle entrusting God with our future? How do we learn to live with open hands in a world that tells us to hold on to what we have?
Reputation is everything in business. If you do not do what you say you will, sooner or later the emails and phone calls requesting your services will stop. We want to be know as a company with a can do attitude that says what it's going to do and does it with no fuss.
There are times when things happen that are beyond your control and cause a problem or your ability to complete a task. This is when you have to do your best to make it work. We always want to be seen as part of the solution, not part of the problem. If that means you move 3 times, then so be it.
I start my day by reading 1, 2 or 3 different devotionals. Some mornings I'll listen to praise and worship as well and even other mornings I'll have the opportunity to catch a sermon online. I find it sooths and energizes my spirit and helps me enter the day with a fresh perspective. When the Lord speaks something He'd like me to share, I type it in my devotional and post it for all to read.
Often I'll need to do a little research so I can reference portions of scripture or ensure I'm using a phrase or word in the proper context. When I have time, I like to read of others experiences and how their walk with the Lord has impacted their lives and those around them.
Ollie Horne, a friend and co-worker in ministry, graduated to heaven this past week after a courageous battle against cancer. He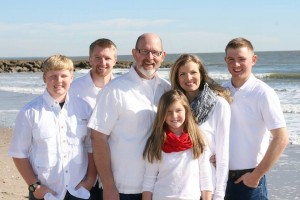 was a true blessing to everyone who came in contact with him. His life caption, the last few years was, 'Watch me live'…and live he did.
The service was a great celebration of the life of a mighty man of God. One by one, the speakers rose and told of the impact Ollie had on them and those around him. He was a man that loved his wife, loved his children and loved people just like Jesus told us to do. The impact of how he lived his life at home, work (he was a flight attendant for Delta airlines) and through his ministry was evident during the service and will continue through the many people who's lives he touched.