Waiting and Watching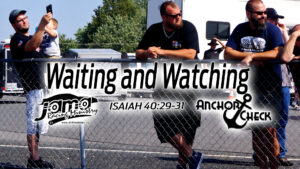 Wait and watch, that is what the Lord is saying to me these days. As the world swirls out of control, He's telling me to be patient, to wait for Him but keep an eye out as a watcher on the wall.
I can tell you I am not comfortable in this new role He has for me, but I walk forth knowing He has a plan and all is under His watchful eye. He's given me a few revelations this week about the people of this world. It may surprise you, it may not.
Join us at 7:25 to hear more.