Even The Deplorables
Have you ever believed the lie that your past is so bad, not even God could love you and forgive you? Most of the community in Jesus' day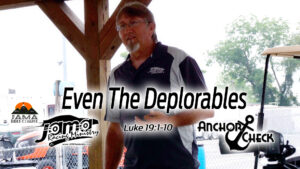 believed that about a rich, tax collector named Zacchaeus (Luke 19:2).
Tax collectors served the Roman Empire, with broad authority to prosecute anyone who did not pay, as well as the ability to force citizens to pay even more than what they really owed. Zacchaeus had accumulated large amounts of illegitimate wealth. His fellow Jews saw him as a thief and a traitor.
But Jesus called Zacchaeus by name and invited himself to his home. The people with Jesus were appalled that Jesus would go to the home of a sinner. It was very counterculture for Jesus' day, yet He paid no attention to their comments, and extended the gift of salvation, demonstrating that salvation cannot be earned or bought, but a gift given freely from God.
Join us at 7:05 tomorrow morning for praise and worship and a message about how Jesus can fix anything. Don't forget, we will have communion tomorrow. https://www.youtube.com/watch?v=hUPtI5EiGUw